Martedì, 3 Gennaio 2017
13 Shades of Blue, il nuovo album dei Nine Below Zero. Guarda il video.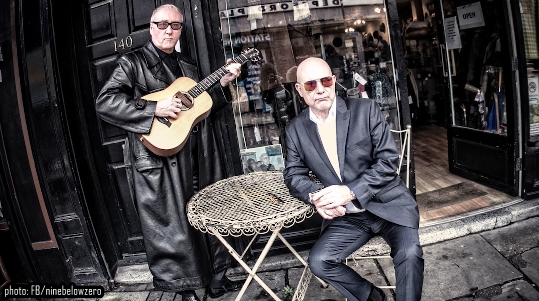 Si chiama 13 Shades of Blue il nuovo album dei Nine Below Zero, tra le più acclamate rock-blues band degli ultimi decenni, dal 16 gennaio 2017 disponibile anche nei negozi di dischi italiani.
A distanza di sei anni dall'ultimo It's Never Too Late arriva adesso un omaggio al Blues e al R&B dalla big band guidata da Dennis Greaves (chitarra, voce) e Mark Feltham (armonica, voce), vincitrice del British Blues Award 2016 per la categoria Harmonica Player of the Year.
Tredici brani che hanno il merito di accendere i riflettori su alcune composizioni considerate minori di quella gloriosa pagina di storia della musica del XX° secolo, sviluppatasi attraverso sottogeneri come Chicago-Blues, Country-Blues, Cajun, Soul, Funk e celebrata dai Nine Below Zero con grande rispetto e naturalezza stilistica.
L'idea di "13 Shades of Blue" è nata dopo il nostro concerto londinese al The Blues Kitchen nel settembre del 2014, in occasione dell'annuncio delle ristampe deluxe dei primi tre album della Universal. Tra il pubblico c'era Johnny Chandler, responsabile del catalogo della major inglese, il quale colpito dalla nostra performance ci aveva suggerito di fare un album per presentare alle nuove generazioni l'intero spettro del blues, e registrarlo nello stile Nine Below Zero. Abbiamo iniziato a compilare insieme una playlist con l'aiuto della sua vasta conoscenza musicale e la mia collezione di vinili, condividendo le nostre idee con gli altri musicisti usando Spotify e YouTube e poi abbiamo costruito una big band per aiutarci a portare le canzoni in vita, dichiara Dennis.
Tra i brani di questo undicesimo album dei Nine Below Zero, registrato ai 45 RPM Studios di Glenn Tillbrook (Squeeze), figurano una micidiale cover funk di Don't Lay Your Funky Trip On Me di Senor Soul, alias di Charles Miller prima dell'infatuazione con Eric Burdon che diede vita ai War, Watch What You Do To Me di Syl Johnson, pupillo di Willie Mitchell della Hi Records di Memphis e That's What Love Will Make You Do di Little Milton, tra i brani preferiti di Jerry Garcia dei Grateful Dead e supportata qui da un featuring al sitar di Tillbrook, che ritroviamo in altri brani alle percussioni.
Ha un irresistibile groove shuffle I Want To Know di Sugar Pie DeSanto, grande r&b singer californiana e pupilla di Johnny Otis, mentre, tra i brani più famosi ripresi vi sono You're Still My Woman di BB King, che arriva dal suo repertorio dei primi Anni '70, le hit Don't Play That Song (You Lied) e Hercules, cantate all'epoca con successo da Aretha Franklin e Aaron Neville, e Crawling Up A Hill, un doveroso omaggio a John Mayall, il Godfather del British Blues.
13 Shades Of Blue è un viaggio appassionante che non tralascia il Blues di Chicago, con 'The Toddle' di Little Walter, passa dall'Alabama con My Woman Is Good To Me di Little Sonny e si sposta a Sud in direzione Louisiana con I'm Gonna Keep What I've Got di Slim Harpo e It's Your Voodoo Working di Charles Sheffield, andando a ritroso nel tempo sino al 1954, quando con Paper In My Shoes si faceva strada il pioniere del Cajun Boozoo Chavis.
I Nine Below Zero hanno oggi una line up allargata e stabile di otto musicisti, che ha debuttato la scorsa estate a Glastonbury proprio con l'energico Blues e R&B di 13 Shades Of Blue, esibendosi nel solo Regno Unito in più di trenta date a preludio di un lungo tour europeo fissato per la prossima primavera. Insieme a Dennis Greaves e Mark Feltham ci sono Mickey Burkey (batteria) dalla storica line up, Ben Willis (basso), Charlie Austen (voce), Andrew Noble (piano), Chris Rand (sassofono) e Paul Jordanous (tromba).
Nati nel '77 in piena esplosione punk, con un nome ispirato da una canzone del leggendario Sonny Boy Williamson II, la band di Dennis Greaves (voce, chitarra) e Mark Feltham (voce, armonica) decide di andare controcorrente e mescola l'energia del punk al sound viscerale del blues, con inserti di inebrianti ritmi e melodie della tradizione Motown.
L'acclamato debutto discografico Live at Marquee (1980, A&M), con Mickey Burkey (batteria) e Peter Clark (in seguito sostituito da Brian Bethell al basso), testimonia una fulminea ascesa nei circuito dei club londinesi, suggellata in soli tre mesi da un concerto da headliner all'Hammersmith Odeon con ospite Alexis Korner, il fondatore del British Blues, che li definisce come "il gruppo inglese più eccitante dai tempi dei Rolling Stones". La casa discografica affianca loro il celebre e talentuoso produttore Glyn Johns (Led Zeppelin, Rolling Stones, Eric Clapton) che produce il secondo album Don't Point Your Finger (1981, A&M).
La band inizia a diventare familiare ai grandi media e viene richiesta per i più importanti tv show dell'epoca, tra i quali The Old Grey Whistle Test, The South Bank Show e per il primo episodio della serie The Young Ones. Un momento di grazia che li catapulta in tour al fianco degli Who e Kinks, per arrivare a Third Degree (1982, A&M), ad oggi il loro maggior successo commerciale e ultimo album con la storica line up. In due anni la band ha inciso tre dischi e ha suonato oltre 500 concerti. La pressione a cui sono sottoposti, e forse alcune divergenze con la casa discografica, porta al loro scioglimento.
Dennis si dedica al nuovo progetto soul/pop The Truth (due singoli in Top 20 inglese e uno nella Top 5 R&B americana), mentre Mark Feltham diventa uno dei più richiesti armonicisti del mondo (Rory Gallagher, Talk Talk, Paul Young, Oasis, Joe Cocker, Zucchero). Nel 1990 si riuniscono per celebrare il loro 10° anniversario con una nuova sezione ritmica formata da Brendan O'Neill (batteria) e Gerry McAvoy (basso), transfughi dalla band di Rory Gallagher e immediatamente dopo realizzano gli album On the Road Again (1991) e Off the Hook (1992) su China Records, con la partecipazione dell'armonicista Alan Glen (B.B King, Johnny Winter, Albert Collins) che sostituisce Feltham costretto a lasciare la band per problemi di salute.
Il successo di questi due album e un tour sold out spianano la strada a un nuovo contratto discografico con l'etichetta Pangaea di Sting, con il quale vanno in tour per l'Europa nel 1993, mentre l'anno successivo sono protagonisti sul palco della Royal Albert Hall con un'incredibile serie di 12 concerti a fianco di Eric Clapton. La band successivamente pubblica Ice Station Zebro (1995, Pangaea) e si esibisce anche come supporto nei tour di Ray Davies, Brian May e Zucchero, mantenendo sempre un alto profilo.
Nel 2000 i Nine Below Zero danno vita alla Zed Records e pubblicano gli album Refrigerator (2000), Chilled (2009), che vede il rientro in pianta stabile di Mark Feltham, e Hat's Off (2005). In questo periodo hanno anche occasione di esibirsi in compagnia di Gary Moore, Chuck Berry, Jools Holland e Paul Jones, partecipando anche a Pistoia Blues nel 2008. L'anno successivo esce l'ottimo It's Never Too Late e nel 2012, che vede il ritorno di Brian Bethell al basso, la Universal pubblica le edizioni deluxe dei primi tre album. Qualche anno dopo la storica line up, con il rientro di Mickey Stix Burkey alla batteria, rivive in occasione del 35° anniversario e di un tour con gli Stranglers.
Nel 2015 Mark e Dennis pubblicano Duo, un album acustico dedicato a Sonny Terry e Brownie McGhee registrato ai 45 RPM Studios di Glenn Tillbrook (Squeeze), dove insieme a Mickey Burkey (batteria), Ben Willis (basso), Charlie Austen (voce), Andrew Noble (piano), Chris Rand (sassofono) e Paul Jordanous (tromba), Brian Bethell (basso) registrano alcune rarità blues e soul, finite nel nuovo album 13 Shades Of Blue, presentato in anteprima al Glastonbury Festival 2016 e supportato, nel solo Regno Unito, da trenta date che anticipano un tour europeo nella prossima primavera. (Fonte: Good Ones PR)
allowfullscreen>