Venerdì, 18 Agosto 2017
Kacy & Clayton - The Siren's Song, 2017 | News | Streaming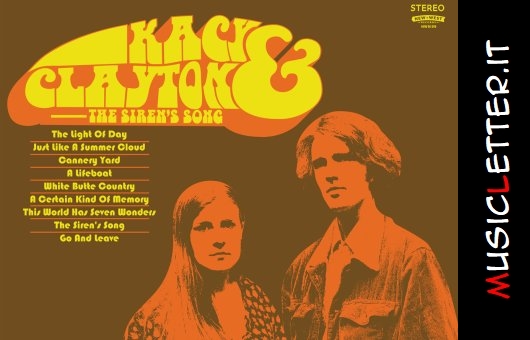 Kacy & Clayton è un duo folk contemporaneo che giunge dal Canada, esattamente da Glentworth, Saskatchewan.
The Siren's Song è il loro terzo lavoro discografico sulla lunga distanza prodotto da Jeff Tweedy (Wilco).
Tranne il brano tradizionale Go and Leave Me, tutte le tracce del disco sono state scritte da Clayton Linthicum e Kacy Anderson, con il contributo dei musicisti Mike Silverman e Shuyler Jansen in fase di esecuzione.
Registrato da Tom Schick al Loft di Chicago (Illinois) e masterizzato da Bob Ludwig al Gateway Mastering di Portland (Maryland), The Siren's Song vede la luce oggi 18 agosto 2017 ed è possibile ascoltarlo in streaming integrale sul nostro blog. (Johnny Vinile)
Clicca qui e ascolta il disco mentre navighi