Sabato, 26 Agosto 2017
Prima giornata del TOdays Festival 2017 con una emozionante PJ Harvey | News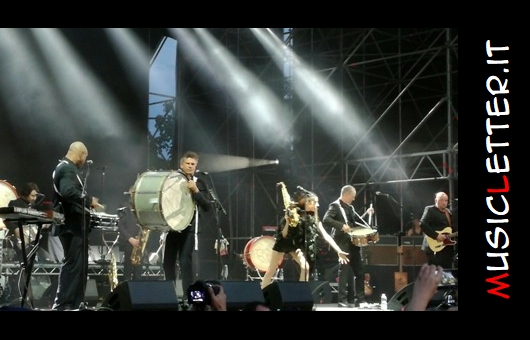 Prima giornata del TOdays Festival 2017 con l'esibizione di una PJ Harvey (foto in alto) ispirata e in gran forma davanti a un pubblico nutrito e partecipe che, prima dell'artista britannica, ha assistito ai concerti della giovane Alice Bisi, aka Birthh, e del sarcastico Giovanni Truppi.
Un'ora e un quarto circa di emozioni, iniziate con la marcia di Chain of Keys intonata da tutta la band (e che band!) disposta in fila come una vera e propria orchestra popolare che, lentamente, prende posizione a suon di tamburi.
Ci sono tutti: dal fedele e immancabile John Parish all'ex Bad Seeds Mick Harvey, fino ai nostri impeccabili Alessandro Stefana e Enrico Gabrielli che, in qualche modo, riempiono ulteriormente d'orgoglio la serata.
Si prosegue con The Ministry of Defence e The Community of Hope che mettono in evidenza l'ultima fatica di PJ Harvey nonché il suo fervore poetico e critico verso quella politica orba nei confronti degli ultimi e degli indifesi.
Un succedersi di brani impeccabili, nella forma e nei suoni, come la suggestiva Let England Shake che, assieme a The Words That Maketh Murder e The Glorious Land, ha scosso un po' tutti, sottolineando ancora una volta la grandezza dell'album capolavoro del 2011, e di un'artista unica nel panorama musicale odierno.
Down by the Water e To Bring You My Love sono sussulti al cuore, ma è River Anacostia a chiudere il live, con Polly Jean Harvey e gli altri nove che omaggiano il pubblico con un generoso inchino.
Il tempo del cambio palco e di un rapido soundcheck, ed è il turno dell'eclettico Mac DeMarco (foto in basso). L'esibizione del musicista canadese diverte e coinvolge i partecipanti a suon di buona musica e tanta ironia. (La redazione)